Completed in 1974, the former Braun factory, which still welcomes visitors to Carlow, brought modernist design and initiated major demographic disruption to the town, as it gave confidence to a generation of working-class women in Carlow through industrial work and a paycheck.
Braun (Gillette) AG is a German consumer products company founded in 1921. The company is best known for its mid-20th century industrial product design, which included electric shavers, slide projectors and record players. In 1935 the Braun brand was introduced and the original incarnation of the logotype with the embossed 'A' was born, the shadow of which is still on the Carlow building today. Similar to that distinctive raised "A", the concrete pile that bears this logo rises like a bold rectangle, its proportions and unusual texture of vertical ribs giving the impression of a building much younger than a building now at the end of the quarantine.
The Industrial Development Agency (IDA) has identified Rathnapish on the north eastern outskirts of the town of Carlow for the new factory of Braun (Ireland) Ltd, as part of its regional towns investment strategy, in s 'aligning with Carlow Regional Technology College (now Carlow IT) to train a young and educated workforce. The sprawling factory on a 29-acre site was built by Sisk and completed in 1974 and quickly became the city's largest employer with 1,400 workers, mostly women, making small personal appliances and, later, brushes electric tines. This was more than the other major employers combined, namely Läpple (closed in 2007), Thompsons (structural steel fabricators) and the sugar mill (closed in 2006) with a combined workforce of around 1,000 people, mainly men.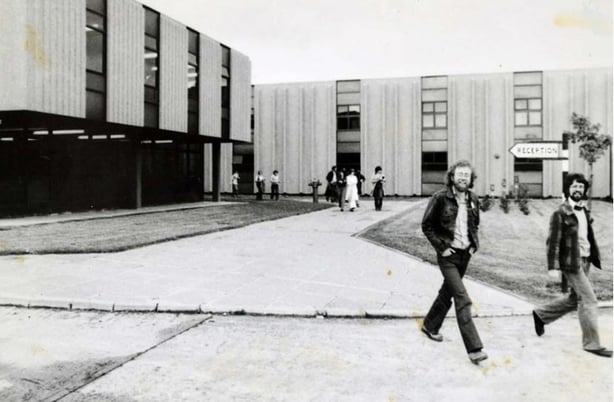 The complex was completed in two phases: the lower section in 1974 and its extension and high-rise storage warehouse in 1985. Suitably for a factory with a female workforce, the architect for phase 1 was a wife, Angela Jupe (1944 – 2021). She was the head of the design team at IDA and was the principal architect of the Braun factory, with input from Braun's professional team in Frankfurt on operational and organizational strategies. She then joined IDA's international services team and worked in private practice in Dublin before embarking on a brand new career in landscape design and conservation. This period of in-house design for IDA lasted about a decade at a time when most industrial areas were designed by large architectural firms, such as the Läpple factory opposite Braun, designed by RKD Architects and also open in 1974.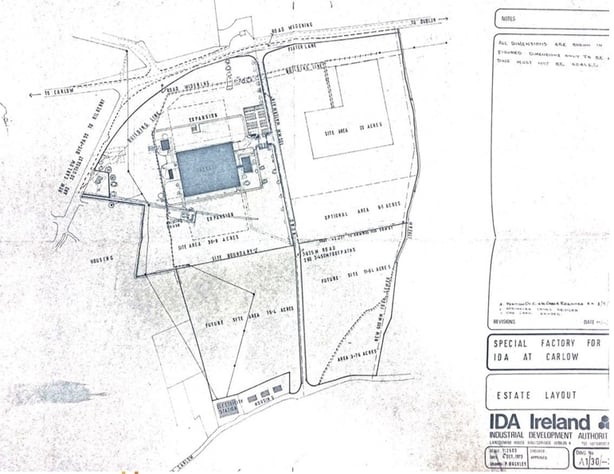 The factory feel is provided by the pre-fabricated 150mm ribbed panels and full-height bronze anodised windows. Inside a vast factory floor, with industrial roof beams, metal pillars, smooth concrete floor. The aggregate concrete panels on the exterior have a brown hue and are of high quality. This design was unique to Ireland for its time and as noted still looks fresh.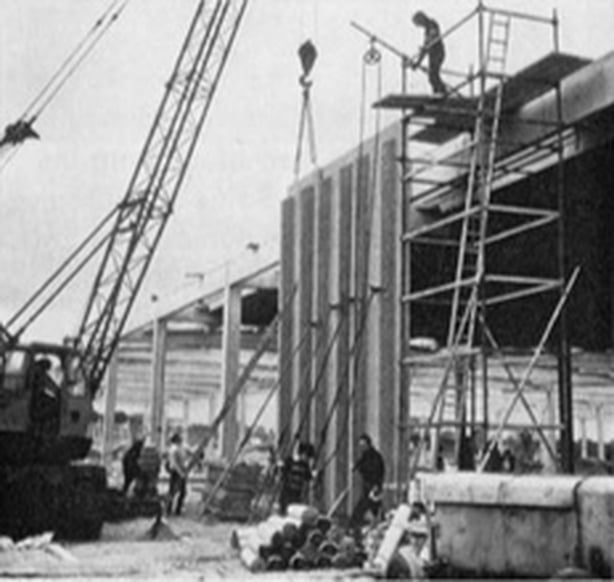 Phase 2 executed in 1985 added 8000m² to the existing floor area and was designed by Newenham Mulligan & Associates and built by Duggan Bros. This phase included an additional production area, gas filling rooms, a new staff canteen and kitchens in addition to the distinctive, ribbed concrete, five-story warehouse housing giant storage racks and racks, part of an automated shipping system. The design team, led by Michael Byron and Aidan Kavanagh, stuck to the original Jupe design, purchasing wall panels that matched the existing precast panels, but with the ribs closer together.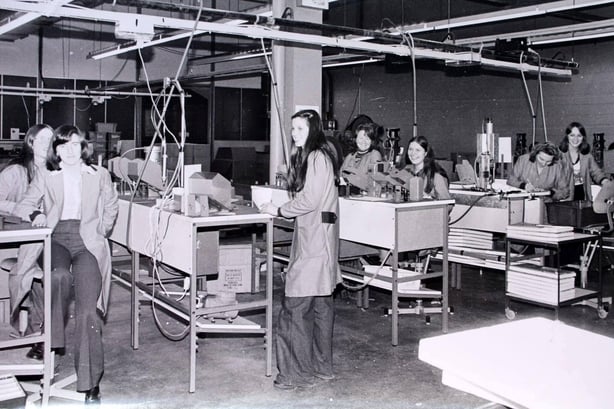 Local Barry McKinley, who was once a draftsman at Thompsons, remembers the social change this employer brought about between the genders. "There were more and more unemployed people walking around town with prams and shopping bags! My girlfriend fled the country when her mother told her: "I'm going to sign you up for a job with the Germans".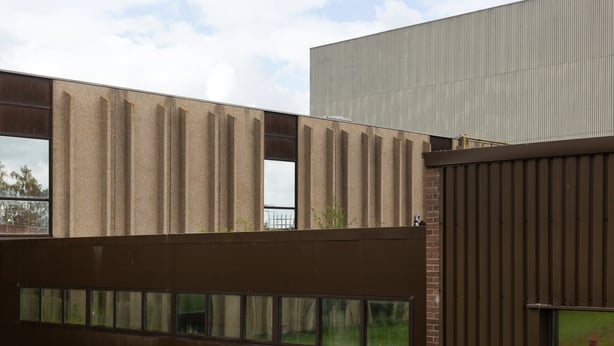 Momentum waned and Braun eventually closed in 2010, a significant loss for the city. The old factory was bought by Procter & Gamble and then, in 2015, by Clyde Real Estate, created by former presidential candidate Seán Gallagher and telecoms entrepreneur Colm Piercy, who initially planned to turn it into a park of activities. However, the vacant factory was temporarily brought back to life last year by the exhibition 'Woman in the Machine', co-created by the city's two main arts organisations, Carlow Arts Festival and VISUAL, presented in the executive of Brightening Air (Coiscéim Coiligh). , and funded by the Canada Council. Accompanying this exhibit, the Braun Archive collected oral histories and photographs of former employees alongside the Braun Project undertaken by fourth-year DSA Bachelor of Architecture students Roisin Feeney, Finbarr Duerden, Shona Quigly and Clara Quinn, under the supervision of Emma Geoghegan, TU Dublin School of Architecture. In September 2021, the Braun site was sold to property developer Glenveagh Properties for use as a timber production facility.
Hopefully the factory buildings, which have not yet been recorded in Carlow's Record of Protected Structures, will be preserved. This sprawling late modernist complex is uniquely elegant and contemporary in style; it is one of the few buildings, in Ireland and elsewhere, designed by a female in-house architect; and it stands as a monument to the working history of Carlow's women and the influence they have had on the recent history of the town.
Photos: Susan Reid, Aisling McCoy